China flexes its military muscles in the Western Pacific.
Credit: Aspenia Online, byTed Galen Carpenter, on Jul 15, 2019
It was just a matter of time until the surging economic capabilities of the People's Republic of China would translate into more serious military capabilities. After more than two decades of annual (usually double-digit) boosts in defense spending, that time has arrived. China's new clout is especially evident with the deployment of a modern navy equipped with an array of sophisticated weapons systems. Beijing's policies in the South China Sea, the Taiwan Strait, and to some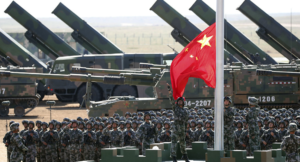 extent throughout the Western Pacific, are exhibiting greater assertiveness to match its's rising military clout. That posture is leading to mounting tensions with the United States and Washington's East Asian allies. It will be an important challenge for both sides to manage such frictions so that they do not produce a war that would be disastrous for all concerned.
Beijing's military buildup and modernization has reached the point that US policymakers and defense planners are paying very close attention. The US Defense Intelligence Agency's 2019 report to Congress concludes that Beijing is building up its ground, air, and naval forces to achieve a more robust capability to invade Taiwan. Some of those moves also apply to China's ambitions in other areas of the Western Pacific.
China has focused especially on developing potent anti-access, area denial (A2/AD) capabilities in recent years. Deployment of a new generation of …..
To read the full article click here